About
All our packages are on our homepage.
So, what exactly is Trickshot Group Tag Archery? We are a company started by a group of friends who enjoyed a game of combat archery in Manchester (props to Archertype—check them out!) and absolutely fell in love with the sport. Being University students, we understand the need for a good quality, relatively low-priced leisure activity that also allows for good health practices and exercise; we also wanted to simultaneously offer female-only sessions with a female instructor for those who find that there is an absence of this in our otherwise great city.
We are currently running sessions in gardens only, or in a pre-booked venue.
Anyone can book a game! No prior experience needed, and no, you do not need to already be a Trickshot Member.
But what on earth is combat archery?!
Combat or tag archery is a sport very popular in other parts of the world (e.g., America, Singapore, Australia even) but not so much in the UK. We'd love to change that, because the sport itself involves shooting the other players with foam-tipped arrows and trying to remain alive, dodging and avoiding incoming arrows as required—therefore it is incredible fun. High-paced, action-packed, but equally intellectual, thinking of tactics to eliminate the other team and keeping your team alive adds a brilliant dimension of strategy to the game.
What Trickshot offers
We offer a variety of game-modes, beginning with target practice, moving on to games such as 'last team remaining' but also new game modes such as Protection, where one teammate has a shield and must be protected. We have an amazing line-up of games ready for our members, so for the love of shooting at your friends, stop reading this, book a trial game today and you will not be disappointed! Looking forward to seeing you soon!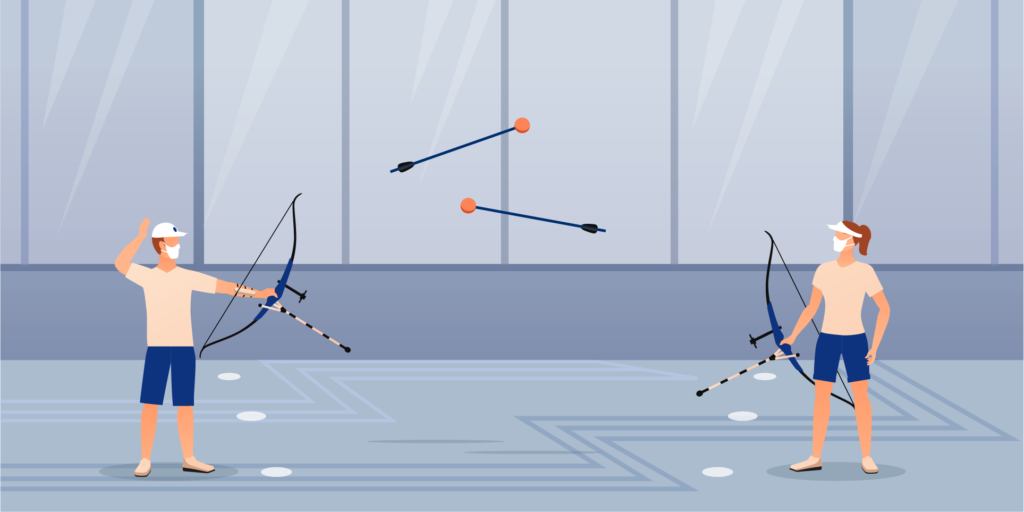 Precautions Regarding Covid-19
Combat Archery is a small group activity suited for groups of 6 currently. Our games provide plenty of room for social distancing, and none of our sessions require close person-to-person contact.
As always, safety is our top priority. We've taken important precautions to keep our customers, staff, and community as safe as possible amidst the COVID-19 pandemic.
1. All sessions are totally private at no additional cost. No strangers intermingling with your friends/family. As current regulations stand, we can take in groups of up to 6 with social distancing, though our games are capped to adhere to government regulations. The same price of a usual game per person, but always private no matter the amount of players.
2. Schedule changes to limit interactions between groups. All of our sessions will have a scheduled window between them, allowing us to avoid the mixing of separate groups and to prepare equipment.
3. Expanded cleaning practices and hand sanitization galore. Our masks are thoroughly disinfected between sessions. Additionally, all bows and high-touch game surfaces are disinfected between games. Please find dispensable hand sanitizer scattered around entry points.
4. Increased ventilation. We will keep as much ventilation flowing through the sessions as possible to help maintain good health practices.
5. Hosts will be wearing masks. Guests are requested to wear masks when they aren't playing. During gameplay all guests are required to wear an archery mask, as always, but no additional facial coverings are required during play.
6. Waiver of rebooking fees. If you wish to move your booking please call us at least one hour before your scheduled start time. Please don't come if you are feeling sick!